Traditionally, business strategies have been analyzed as a collection of discrete and essentially unrelated approaches, such as ProductDifferentiation, LowCostProducer, FirstMover, LastFollower, and FocusedDifferentiation.

A more straightforward and comprehensive approach to analyzing strategy is to look at competitive advantage in 3-D space: products, processes, and markets.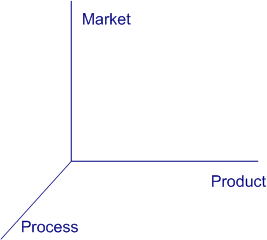 The notion here is each strategic move will reposition the firm with respect to all three dimensions.

Note: These axes are themselves multi-dimentional. For example the Process axis is not narrowly defines as production processes, but can mean any and all processes including administrative, marketing, information, financial, production, etc.
---
See also Industry Structure

See also: California Management Review. "Technology and Strategic Advantage" Spring 1996, pgs. 38-56.
---
Category Consulting
Category Business
Category Risk
( Topic last updated: 2004.01.20 04:53:28 PM )