Anybody know or better remember these attendance numbers at the major VFP events?

Can somebody else check the total for the 2006 year? Looks wrong to me...

Summary:


2004 is down about 400 from 2003, the difference being no Portal Fox conference, which drew 440 in 2003. It probably could have been the year's biggest in 2004.
For the second straight year European and Asian conferences out-draw USA conferences.
See below for up-to-date graphs.
Year
Europe
- Asia
North
America
Advisor
Total
1992
2500
2500
1993
1300
1300
1994
183
579
0
762
1995
281
976
3000
4257
1996
297
425
1800
2522
1997
451
527
1800
2752
1998
1185
300
1600
3085
1999
1080
625
1300
3005
2000
1000
714
1100
2814
2001
930
787
752
2469
2002
884
596
525
2005
2003
1440
550
375
2365
2004
1060
590
337
1987
2005
2558
305
210
3040
2006
519
181
95
1254
2007
572
244
35
851
2008
451
175
626
2009
312
106
418
2010
371
125
496
2011
99
119
218
2012
126
131
257
2013
127
145
272
2014
102
119
221
2015
154
123
277
2016
123
117
240
2017
82
82
---
2017
October 26-29: Southwest Fox (no Xbase++ conference this year): 82 including speakers and exhibitors (about the same as Fox-only attendees in 2016)

2016
September 22-25: Southwest Fox and Southwest Xbase++: 117 including speakers and exhibitors
Nov 17-19: German DevCon 2016: 84
May Visual Extend DevCon 2016: 39


2015
October 15-18: Southwest Fox and Southwest Xbase++: 123 including speakers and exhibitors
Nov 12-14: German DevCon 2015: 99
May Visual Extend DevCon 2015: 55

2014
October 16-19: Southwest Fox and Southwest Xbase++: 119 including speakers and exhibitors
Nov 13-15: German DevCon 2014: 83
May Visual Extend DevCon 2014: 19

2013
October 17-20: Southwest Fox and Southwest Xbase++: 145 including speakers and exhibitors
November German DevCon 2013: 97
May Visual Extend DevCon 2013: 30

2012
October 18-21: Southwest Fox and Southwest Xbase++: 131 including speakers and exhibitors
November German DevCon 2012: 96
May Visual Extend DevCon 2012: 30

2011
October 26-29: Southwest Fox: 119 including speakers and exhibitors
November German DevCon 2011: 84
May Visual Extend DevCon 2011: 15

2010
Nov 11-13: German DevCon 2010: 125
October 14-17: Southwest Fox 2010: 125 including 17 speakers
June 05-16: German Visual FoxPro 9.0 Roadshow in six cities: 160
May 7: Visual Extend DevCon 2010: 36.
April 26-29: Prague DevCon 2010 as a part of Czech TechEd 2010

Conference: VFP Track: around 50 attendees

2009
Nov 13-15: German DevCon 2009: 122
October 15-18: Southwest Fox 2009: 106 including 17 speakers
June 23-25: Prague DevCon 2009

, Prague: 160 (including speakers; organized as VFP and SQL Server DevCon and VFP attendees were approx. half of all 321 registered)
May 15: Visual Extend DevCon 2009: 30.

2008
Nov 17: SDN VFP Conference, The Netherlands: ? Nov 13-15: German DevCon 2008: 145
October 16-19: Southwest Fox 2008: 135 plus 16 speakers
Oct 15-16: West Wind Web Connection Training and User's Conference in Mesa, AZ: 25
July 1-3: Prague DevCon 2008

, Prague: 240 (including speakers; organized as VFP and SQL Server DevCon and VFP attendees were more than a half of all 465 registered).
June 14: Visual Extend DevCon 2008: 18.
March 28: Software Developers Event, Ede, VFP-Track only: 18.
March 4-6: - French Devcon, Paris

: 30

2007
Nov 14-15: VFP Conference Teheran, Iran: 20
Nov 12: SDN VFP Conference, Bunnik, The Netherlands: 25
Nov 08-10: German DevCon 2007: 172, not including speakers.
Oct 18-21: Southwest Fox 2007, Mesa, AZ: Officially 151 attendees (NOT including 16 speakers).
Oct 17-18: West Wind Web Connection Training and User's Conference

in Mesa, AZ: 37 (including speakers)
Sep 7-9: Fox Forward - Alpharetta, GA: 56 (including speakers).
June 19-21: Prague Devcon 2007

, Prague: 302 including 50 from Slovakia and 24 from other countries.
May 6-9: Advisor DevCon, Anaheim, CA: 35 (VFP Track only, nearly 200 for conference).
May 4: Visual Extend DevCon 2007: 18.
March 5: Software Developers Event, Ede, VFP-Track only: 22.
February 25-27: OzFox 2007, Sydney, Australia: 45.

2006
Nov 15-18: - Brazilian Conference, Sao Paulo

: 120 (including speakers)
Nov 15-17: - French Devcon, Paris

: 60
Nov 13: Software Developers Event, Utrecht, VFP-only-event: 50
Nov 09-11: - German DevCon 2006: 170
Oct 19-22: - Southwest Fox, Tempe AZ. 119 (including speakers)
Sep 15-17: - Fox Forward - Alpharetta, GA 55 (including speakers)
Sep 15: Software Developers Event, Reehorst, VFP-Track only: 22
Sep 11-12: - Prague Devcon

. 303 (including speakers and 36 from 14 different countries).
Aug 27-31: - Advisor Devcon17 - Phoenix, AZ 100-120 (from Rick's estimate of the [2006.08.28] Keynote,)
July 29: Profox Romania Road Show Petrosani. 40
July 15: Profox Romania Road Show Oradea. 33
May 24-27: Russian VFP Developer Conference Ufa 2006

30
May 19: Visual Extend DevCon 2006: 27
Apr 21-24: Great Lakes Great Database Workshop, GLGDBW 2006: 107? (I think that's what Whil said at the closing ceremony...)
Mar 25-26: OzFox Lite, Sydney, Australia 40 (not including speakers and organizers)
Mar 25: FoxPro Revolutions/Bucharest, Romania 73 (not including speakers and organizers)

2005
Nov 09-12: German DevCon in Frankfurt/Main, Germany: 210 -- No Pre-con in 2005
Nov 09: Ken Levy and Lisa Slater Nicholls in Utrecht, The Netherlands: 50
Nov 03-05: Rencontres AtoutFox 2005. Lyon, France : 65
Oct 13-16: Southwest Fox in Tempe, Arizona: 125 (including speakers)
Oct 12-13: West Wind Web Connection Training and User's Conference

in Tempe, Arizona: 50 (including speakers)
Sep 26-28: VFE Devcon 2005, Toledo, OHapprox 15
Jun 28: Ken Levy in Sofia, Bulgaria: 1000 for Ken's session (1400-1900 for the entire event depending on who you ask)
Jun 27: Ken Levy in Bucharest, Romania: 110
Jun 24: Ken Levy in Budapest, Hungary: 150
Jun 21-23: Prague DevCon in the Czech Republic: 410 including 39 from 10 countries outside the Czech Republic and Slovakia.
Jun 18-22: Dev Teach

in Montreal, Quebec: 100 for VFP, of 300 total (VFP+SQL+.NET).
Jun 12-16: Advisor DevCon 16, Las Vegas: 210 -- Conference total was 650, so VFP was the largest segment.
May 11-13: Russian DevCon in the capitol of Bashkorstan republic Ufa: 40
Apr 29: Visual Extend DevCon 2005: 30
Apr 04-28: German Visual FoxPro 9.0 Roadshow in nine cities: 300
Apr 01: Software Developers Event, Reehorst, VFP-Track only: 30
Mar 03-04: What's New in VFP 9, Prague: 160
---
2004
Nov 29-Dec 01: OzFox 2004 in Sydney, Australia: 65
Nov 11-13: AtoutFox, Paris, France: 60
Nov 09-12: German DevCon 2004: 231 -- Including Pre-con
Oct 22-24: VFP Brazilian Conference, Sao Paulo, Brazil: 95
Oct 22-24: South West Fox 2004

Conference, Tempe Arizona: 120
Sep 29-Oct 3: Advisor DevCon 15, Las Vegas: 325-350
Jun 19-22: Dev Teach

Conference, Montreal, Quebec: 240 for (DotNet

, SQL and VFP)
Jun 22-24: Prague Devcon - www.daquas.cz/fox/devcon2004an/: 452 officially
Jun 28: Ken Levy + YAlan Griver about VFP 9, Haarlem, Netherlands (VFPSIG.NL) -- 130
Jun 04-07: Dev Essentials, Kansas City, Missouri: 230 for all 3 concurrent conferences (DotNet

, SQL and VFP)
Jun 04: Visual Extend DevCon 2004: 22

---
2003
Nov 04-07: German DevCon 2003, Frankfurt: 260
Oct 12-15: Great Lakes Great Database Workshop, GLGDbW 2003: 200
Jul 21-23: OzFox 2003 www.ozfox.com.au Sydney, Australia : 50
Jun 24-25: Prague Devcon - www.daquas.cz/fox/devcon2003an/ : 485 (Official count)
Jun 15-18: Advisor DevCon 14, Palm Springs: 375
May 10-13: Dev Teach

Conference 2003, Montreal, Quebec: 100 for VFP.
Apr 25-28: Essential Fox Conference 2003, Kansas City, Missouri: 250
Feb 19-21: Portal Fox Conferences, La Coruna, Spain: 440
---
2002
Nov 16-21: Great Lakes Great Database Workshop, GLGDBW 2002: 326 Registered
Nov 14-16: West Wind Web Connection User's Conference 44 (counting speakers)
Nov 06-08: German DevCon 2002, Frankfurt: 288
Sep 29-Oct 2: Advisor DevCon 13, Ft. Lauderdale: 525
Sep 15-19: Visual FoxExpress DevCon 2002: 20 + 1 person that crashed the conference. (same as last year)
Jun 04-05: VisualFoxProDevConPraha2002: 494
Apr 26-29: Essential Fox Conference 2002: 270
---
2001
Nov 07-09: German DevCon in Frankfurt/Main, Germany: 319
Oct 27-31: Great Lakes Great Database Workshop, GLGDBW 2001: 327
Sep 09-12: Advisor DevCon 12, San Diego: 752 Not bad as conferences go, considering the economy, according to a source at Advisor.
Jun 2001: DevConPrague2001. 550
May 13-16: VFP DevCon 2001. 300-350 for VFP out of 1100 total for VFP, VB, VC++, and SQL.
Mar 31-Apr 02: Fox Teach 01. 125
---
2000
Dec 12-14: VFE Devcon 2000, Las Vegas, NV ? Nov 07-11: German DevCon in Frankfurt/Main, Germany, DevCon Germany 2000, Frankfurt 319
Nov 05-08: Great Lakes Great Database Workshop, GLGDbW 2000, Milwaukee 314
Sep 24-28: Advisor DevCon 11, Miami: 1,100
Jun 2000: European Developer's Conference, Devcon Prague 2000, Prague 650
May 14-17: Devconnections 2000, New Orleans 400
May 2000: Amsterdam
---
1999
Nov 10-12: Devcon Germany 1999 (VI), Frankfurt 309
Sep 22-24: Double Impact Mega Event, Las Vegas, NV ? Sep 19-22: VFE Devcon 1999 Las Vegas, NV ? Aug 1999: Southern California ~300
Jun 22-23: Devcon Prague 1999 Prague 700
Jun 06-10: Advisor DevCon 10, Palm Springs: 1300 (?)
May 1999: Amsterdam
Apr 10-12: Fox Teach, Toronto 325
---
1998
mid-Jun: Devcon Prague 1998 Prague 680
May 17-20: Advisor DevCon 9, Orlando: 1600 (?)
1998 Southern California ~300
1998 Lowlands V, Amsterdam 125 (?)
1998 German DevCon in Frankfurt/Main, Germany : 350
---
1997
Sep 14-17: Advisor DevCon 8, San Diego: 1800 (?)
Apr 1997: Fox Teach, Toronto 300 (?)
Mar 1997: Great Lakes Great Database Workshop, GLGDbW 97 227
1997 Lowlands IV, Amsterdam 125 (?)
1997 German DevCon in Frankfurt/Main, Germany : 326
---
1996
Oct 27-31: Advisor DevCon 7, Phoenix: 1800
Jun 22-23: Mid Atlantic Database Workshop Richmond 150 (?)
Jun 02-04: Visual FoxPro Users Conference, Minneapolis 275 (?)
German DevCon96 in Frankfurt/Main, Germany : 297
---

1995
Nov 1995: Great Lakes Great Database Workshop, GLGDbW 95 426
Oct 1995: Advisor FoxPro Conference, Phoenix, ? Jun 04-06: Visual FoxPro Users Conference, Minneapolis 250 (?)
Jun 10-11: Mid Atlantic Database Workshop Va Beach 300 (?)
Jan 1995: DevCon 6, San Diego: ~3000, biggest one, VFP was born! (3.0).Talking to Susan Graham at DevCon '04, she agrees that 3000 is way too high for this number. She thinks if you count press, speakers, staff, etc., it might be 2200-2500.--TamarGranor
1995 German DevCon in Frankfurt/Main, Germany : 281
---
1994
Feb 1994: International Database Interchange, Toronto ~200 ( I think it was more like 125 or so-- Steven Black)
Apr 1994: International Database Interchange, Palm Springs, ~200 ~75 (max)-- Steven Black
Jun 1994: Visual FoxPro Users Conference, Minneapolis ? (?)
Nov 1994: GLGDbW 94 304
1994 German DevCon in Frankfurt/Main, Germany : 183
---
1993
1993 DevCon 5, Orlando: 1300
---
1992
1992 DevCon 4, Phoenix: 2500
---
MSGraph generated graph, demonstrated at DevCon 14 -- ?tr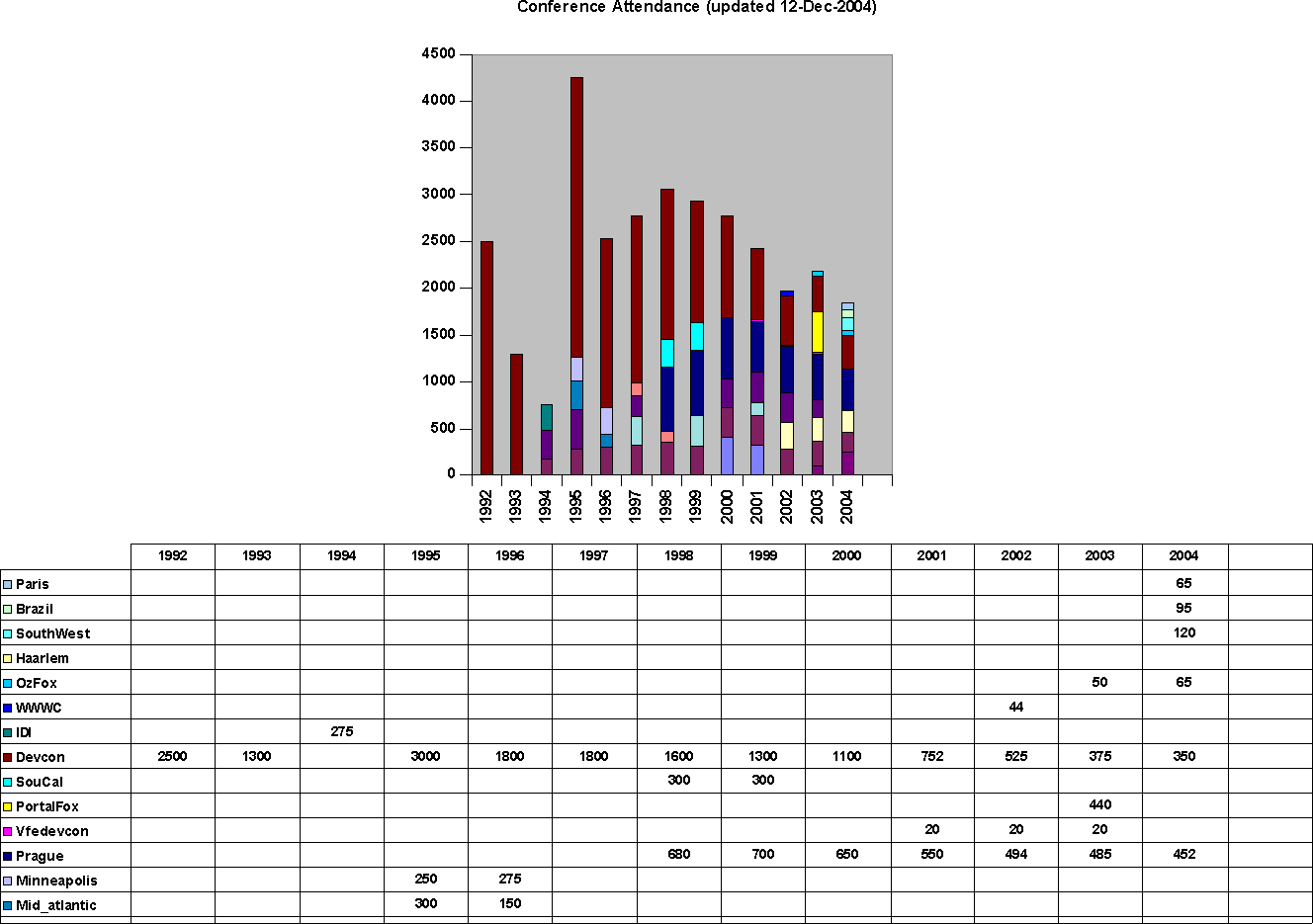 The two graphs below show attendance at DevCon alone versus attendance at all other conferences: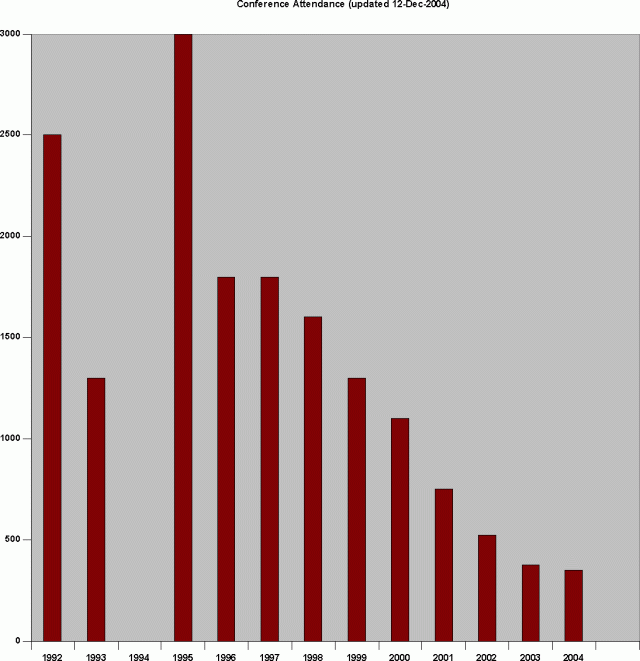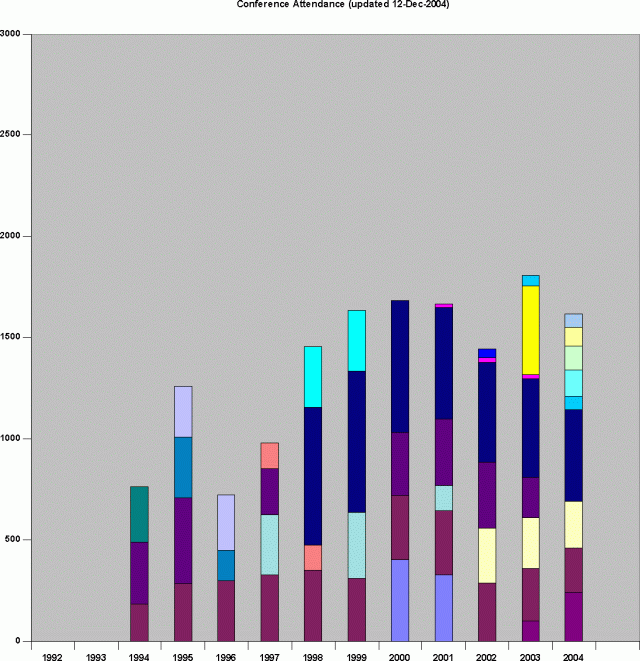 ---
See also Upcoming Events, Major Conference Attendance, VFP Conference Crash Myth
---
Category VFP Conferences
Category Conferences
( Topic last updated: 2017.11.03 02:29:17 PM )